My Marriage was Suffering Because of Manicures! This Miraculous Kit Changed Everything
HINT: I replaced my nail salon & saved my marriage at the same time.
"We need to cut back...a lot. I don't think going to Florida is smart. And your salon visits...they're too much."

When my husband said we had to cancel our family vacation to Florida, I knew our budget was really tight.

We had already been scaling back on nights out, ordering takeout.

For a long time I didn't think twice about spending a couple of hundred bucks at the nail salon each month.

If I wanted the perfect mani, it was just something I had to do, right?

But now, with prices going up and all this financial trouble seriously affecting my marriage, I really struggled to justify the expense. So I canceled the appointment I had and put my mani's on pause.

However, I still had to find a way to keep my nails looking great.

My sister-in-law Jen visited a few months back and had a beautiful mani -- I was jealous! She used to get her nails done way more often than I would but suddenly stopped about a year back. She would always brag about not having to go to the salon but I never asked how she got her nails done...until now...
Nail Salons Are A Giant Waste of Money!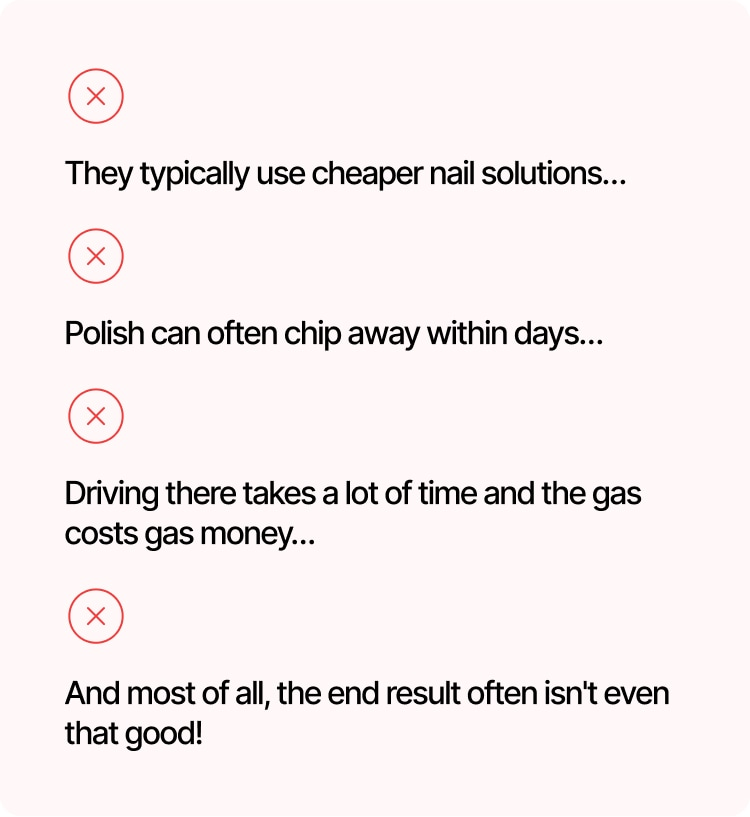 Jen shared with me that she had been avoiding nail salons ever since an unskilled technician gave her a nasty nail infection!

She had to take prescription meds for a few months to get rid of it.

Ever since then, she has never set foot in a nail salon, and to quote her, "she never will."

Jen pointed out that not only do nail salons charge an arm and a leg, but they're also totally overrated!

But I still wondered how she got her nails done...
Luckily, Jen Found the Perfect Alternative to Nail Salons!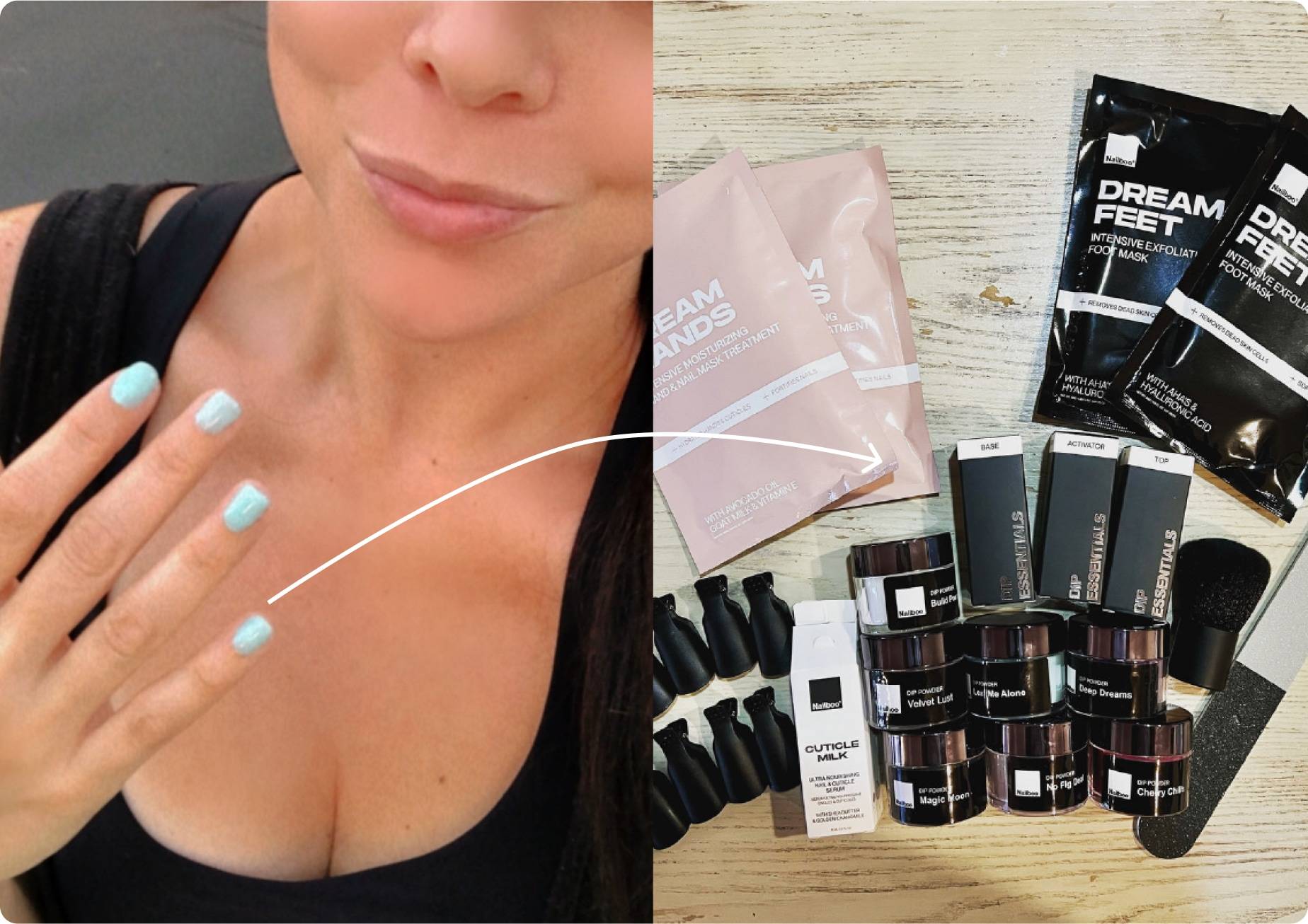 Jen lives nearby so she invited me over to show me how she gets her nails done…

At home!

I was skeptical, as I had tried DIY manicures plenty of times – with terrible results. But whenever I saw Jen, her nails were always perfect. I had to find out what she was doing differently!

When I turned up, she grabbed her box with little jars, a few bottles of liquid and some tools.

She said it's called the Nailboo Dip Powder Kit, and that it's everything you need to salon quality nails done at home quickly.

"You don't even need a UV lamp!" she said.

"You pretty much coat your nails, dip into powder, file / smooth and activate with a top coat, and you're good to go!"

So I gave it a try...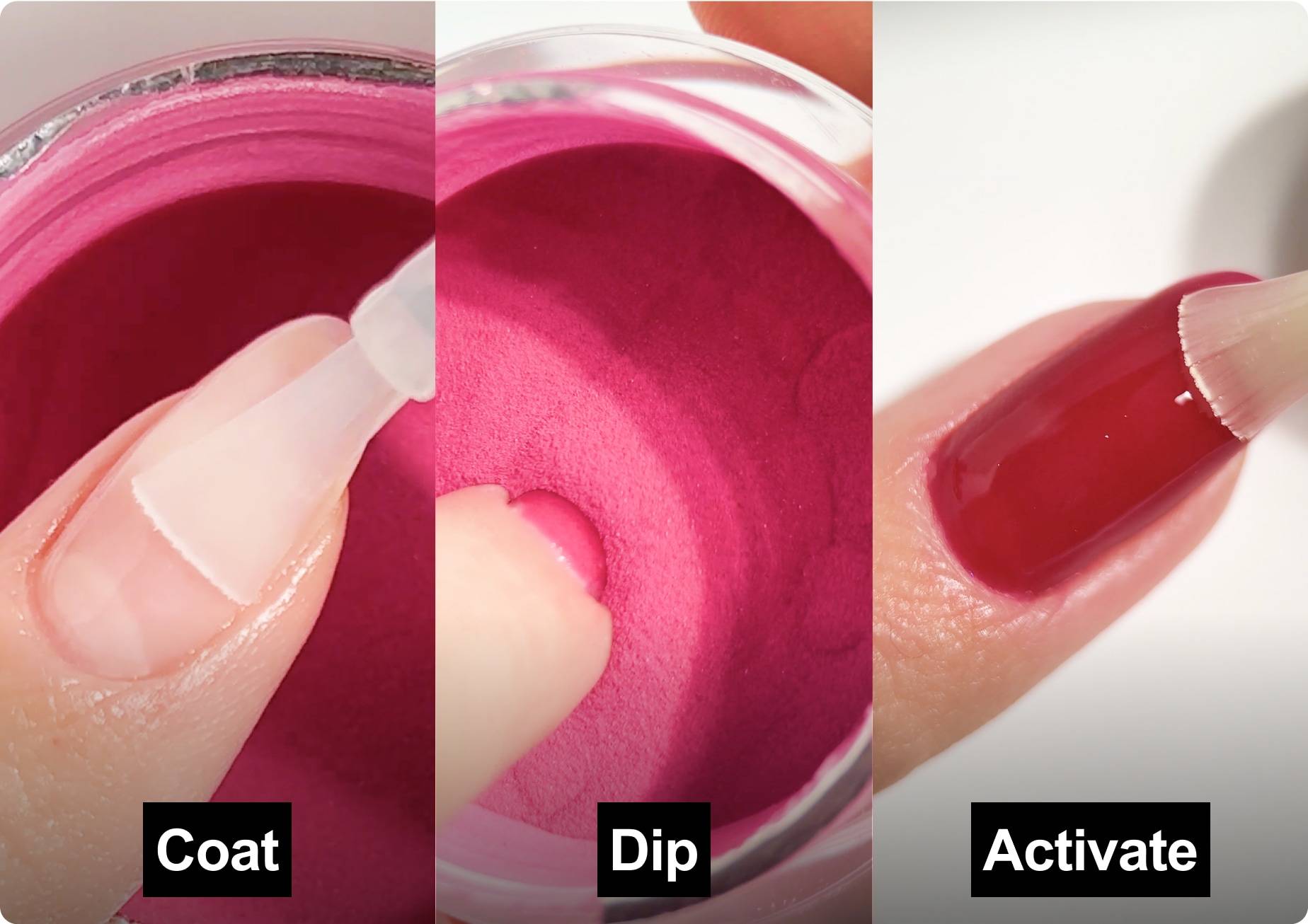 I was a bit doubtful, but managed to follow the instructions and nailed it my first try!

I am telling you...they looked FANTASTIC!

I was shocked. Jens nails still looked a bit better, but for a first try – I loved my results!

I kept asking myself why I never managed to try this before! I was intrigued so I did more research on my own.

Turns out Nailboo's secret is its special dip powder.

Unlike gels and acrylics, which can chip away pretty quickly, Nailboo dip nails are much stronger and can last for weeks! They're also easier to apply (no UV light needed) and remove with their acetone & soak bowl (more on that later).
I put my mani to the test, I tried to scrape it off with my husbands pocket knife. It surprisingly held up! Could this be the strongest mani I've had? I tried polish (a couple weeks later, before applying more powder) to compare and it didnt stand a chance.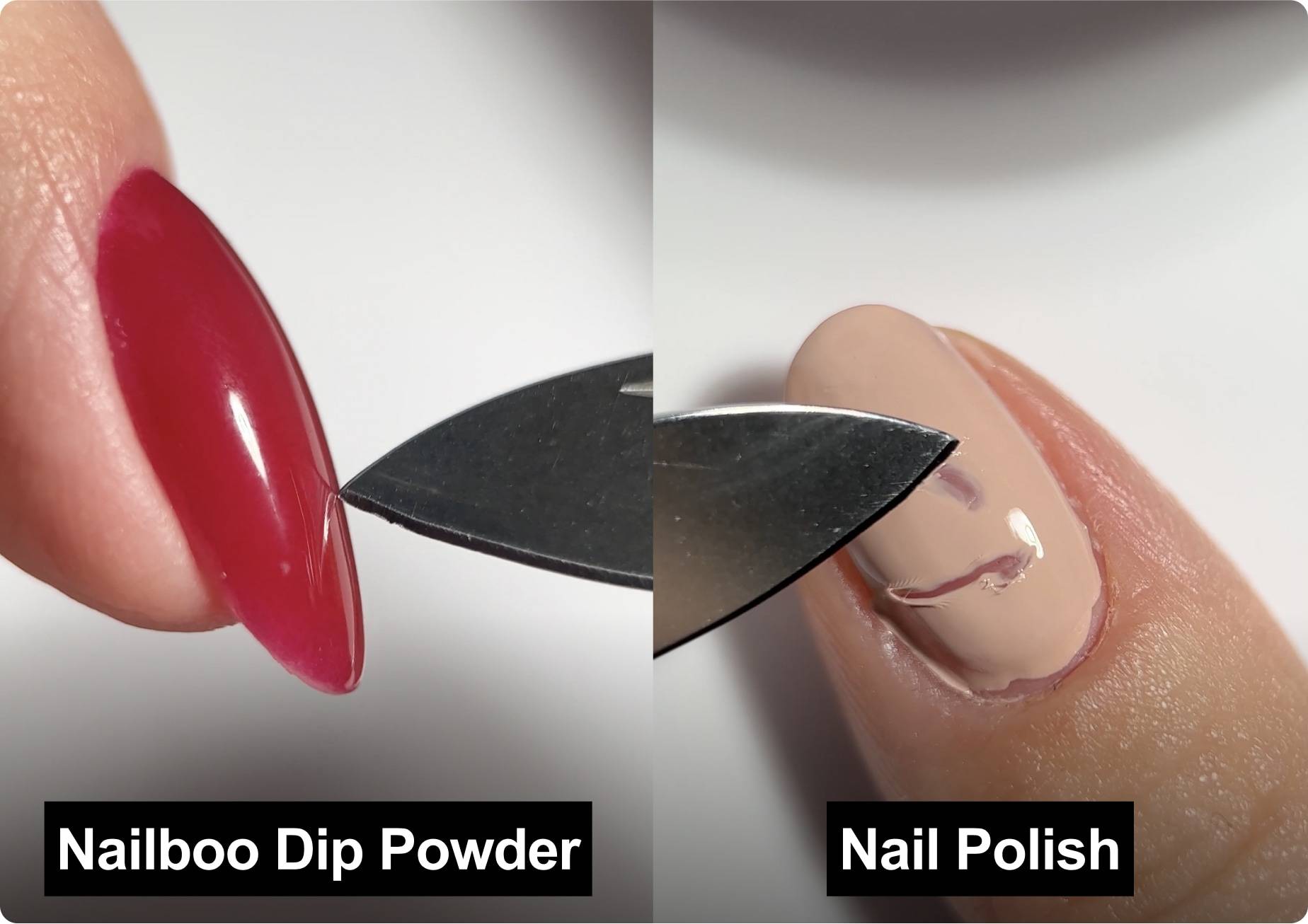 I always chip my nails doing the most basic things (like the dishes) so I decided to put my mani to the test again (and be productive of course)! Not a chip on them after a full sink of dishes...

With the dip powder, my nails were lightweight and flexible but also seemed to have super strength - I could do (almost) anything without them breaking!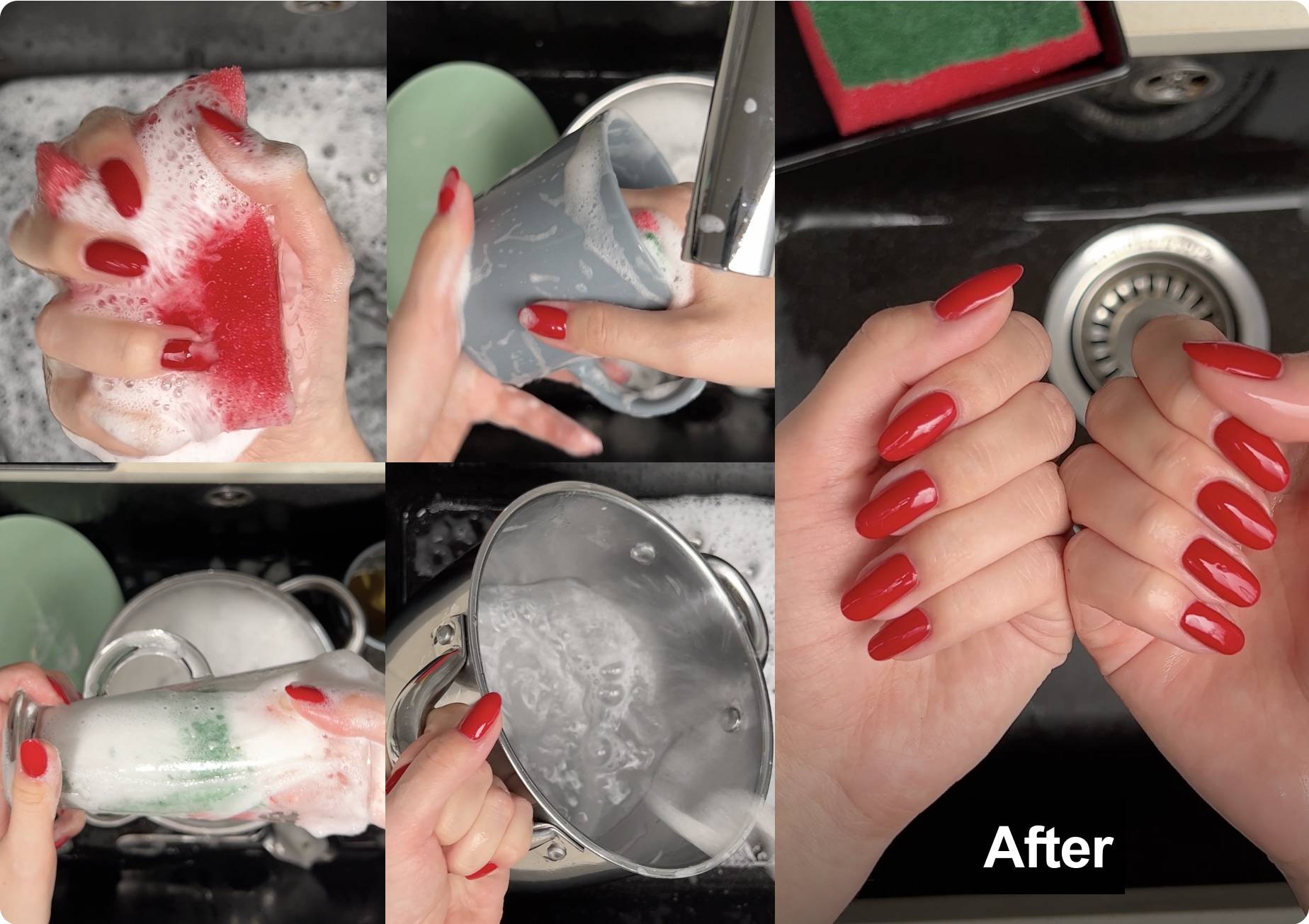 When Jen showed me everything that was included in her kit, I was amazed!

The Nailboo Dip Kit came with extra tools and we followed the tutorial videos on the Nailboo website with ease.

There's a three-step liquid kit, build powder to protect your nails, colored powder, a powder brush, four-way file, a cuticle pusher, and clips to help you safely remove your color once you are finished…they also included two hand masks, two feet masks & a cuticle serum as an added bonus!

It's basically a whole salon in one handy kit!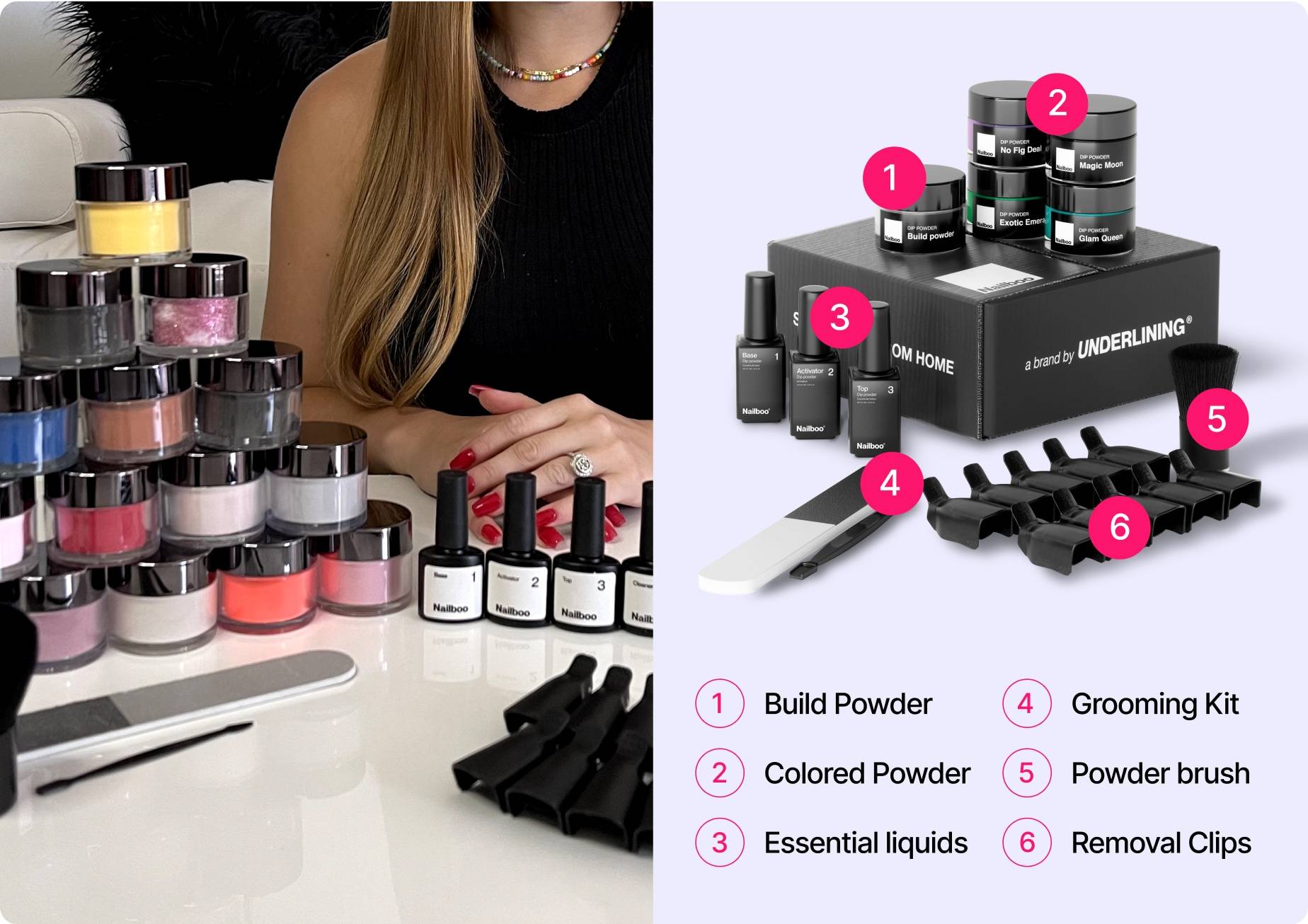 But the best part? It's how practical it is!

Jen mentioned that just one jar has enough powder to give yourself up to 30 full mani's…

I was spending about $60 a mani, that's about $1,800 in value in one jar.

As a result, you'll get stunning nails at home…

…and save THOUSANDS by never going to a nail salon again!

I was sold!
Hoping for Fabulous Nails on a Budget, I Bought the Nailboo Dip Powder Kit Right Away… And Here's What Happened!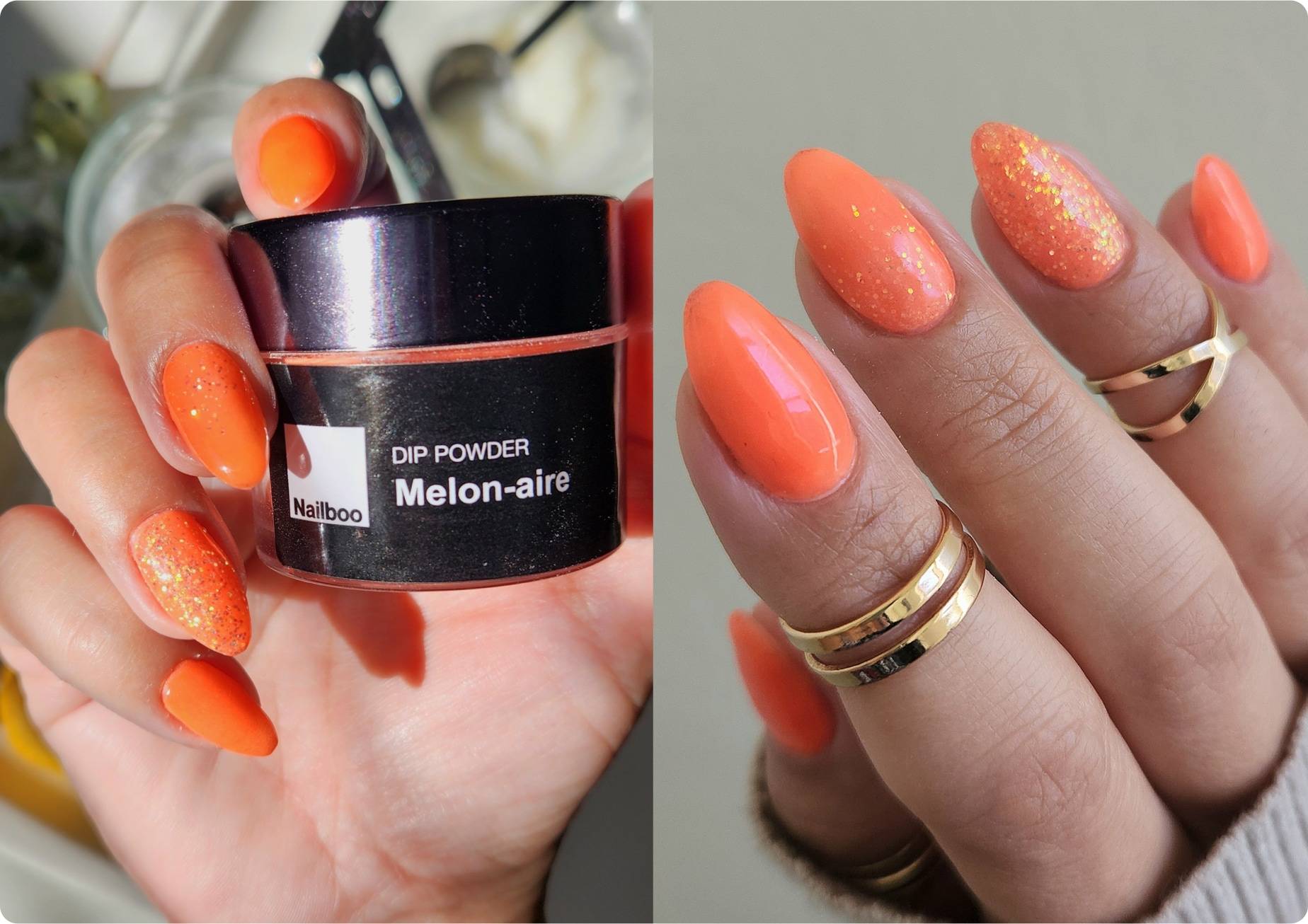 After years of wasting money at nail salons, I am SO grateful Jen suggested I switch to Nailboo.

The first thing I noticed was that Nailboo takes some learning at first but once you understand the basics you can give yourself a mani pretty quickly. They also offer many tutorials walking you through the process. The first time I applied the Nailboo powder, it only took me around 30 minutes. The second time took about 20 minutes.

Their kit came in three sizes - Starter with 1 color, Essential with 4 colors, and Pro with 6 (I picked Pro because I love to change my nails a lot). The more colors you get, the more you save.

I also tried their Pro Soak Removal Kit which saved me a ton of time removing the dip, I highly recommend purchasing this with your dip kit. Since powder is a bit stronger it can be more difficult to remove than polish but this removal bundle helps a ton. They also have a tutorial for this.
When I told my husband I did them at home he couldn't believe it… it's almost too good to be true! No wonder Nailboo is so popular!

Nailboo has saved me a ton of money so far, and those savings been a blessing for both my wallet and my marriage!
My Verdict: For Perfect Nails & Thousands in Savings, Use Nailboo
Nailboo isn't just a cheaper alternative to nail salons. It's also…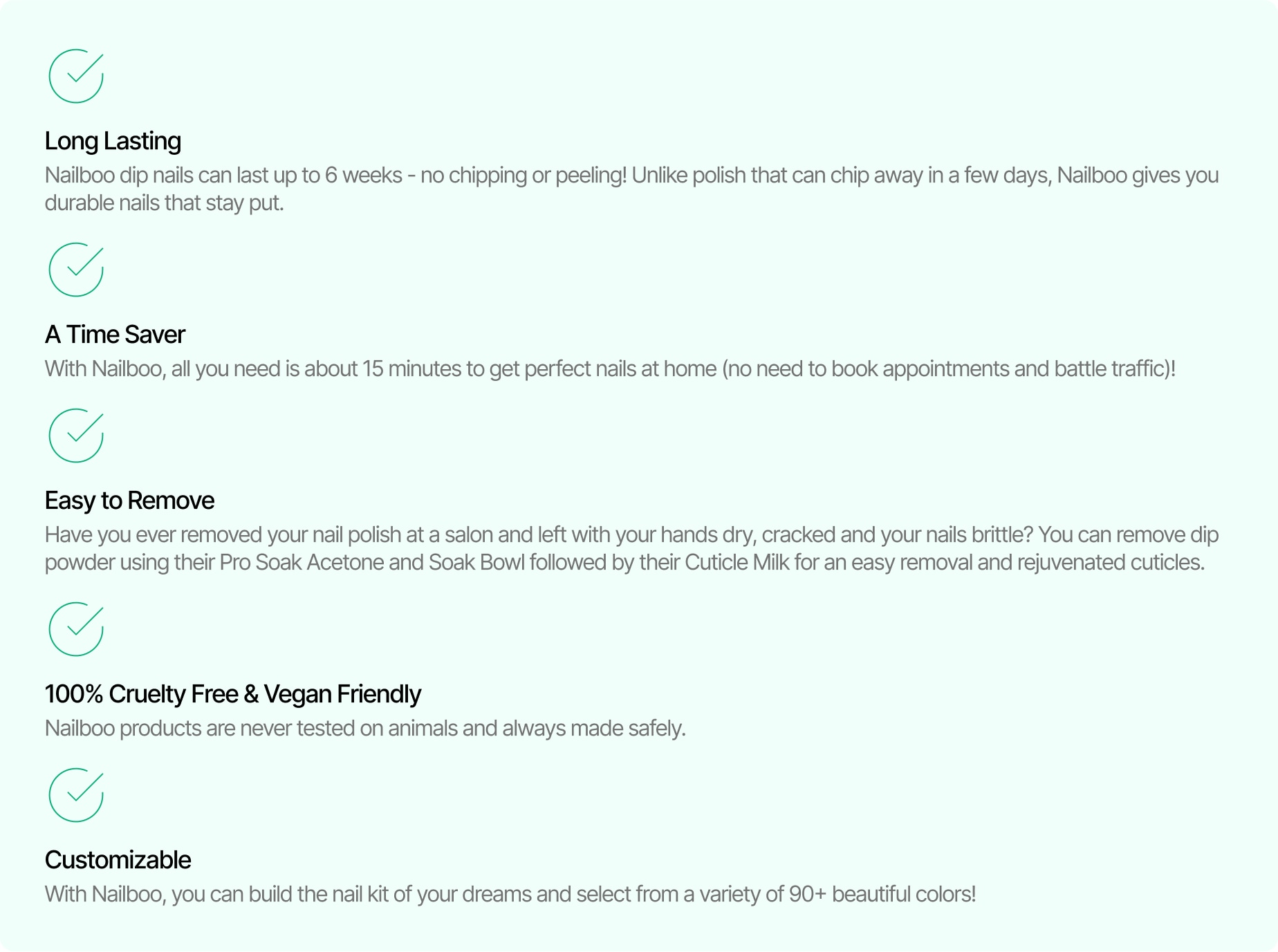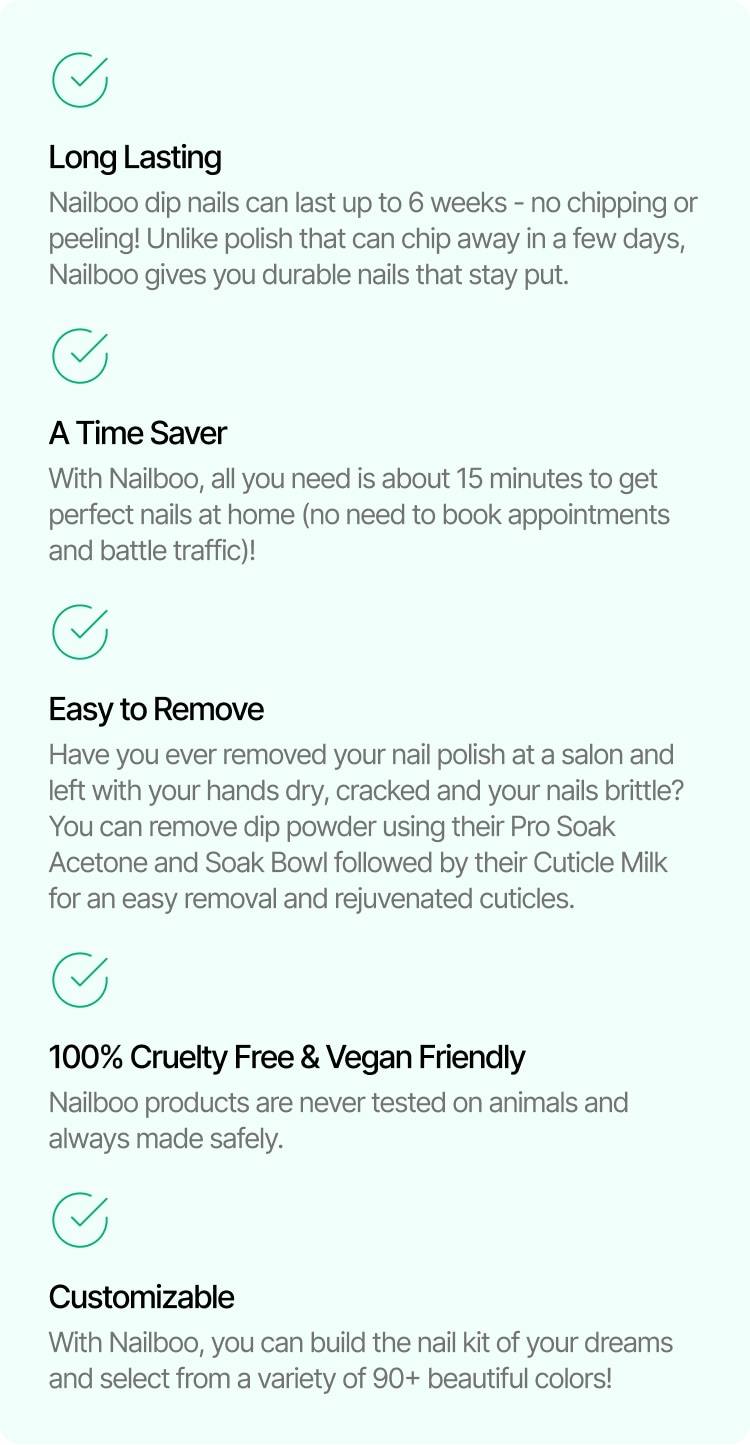 Above all else, Nailboo has been a lifesaver for my marriage.

I couldn't believe how many people leave their spouses because of financial troubles (It's the second biggest reason for divorce in the United States.)

But with the help of Nailboo, I can save thousands every year, keeping our marriage intact (and allowing us to have more fun together too!)
UPDATE as of December 29, 2022:

Three months later, I still swear by Nailboo (And Right Now, They're Offering Special Discounts…)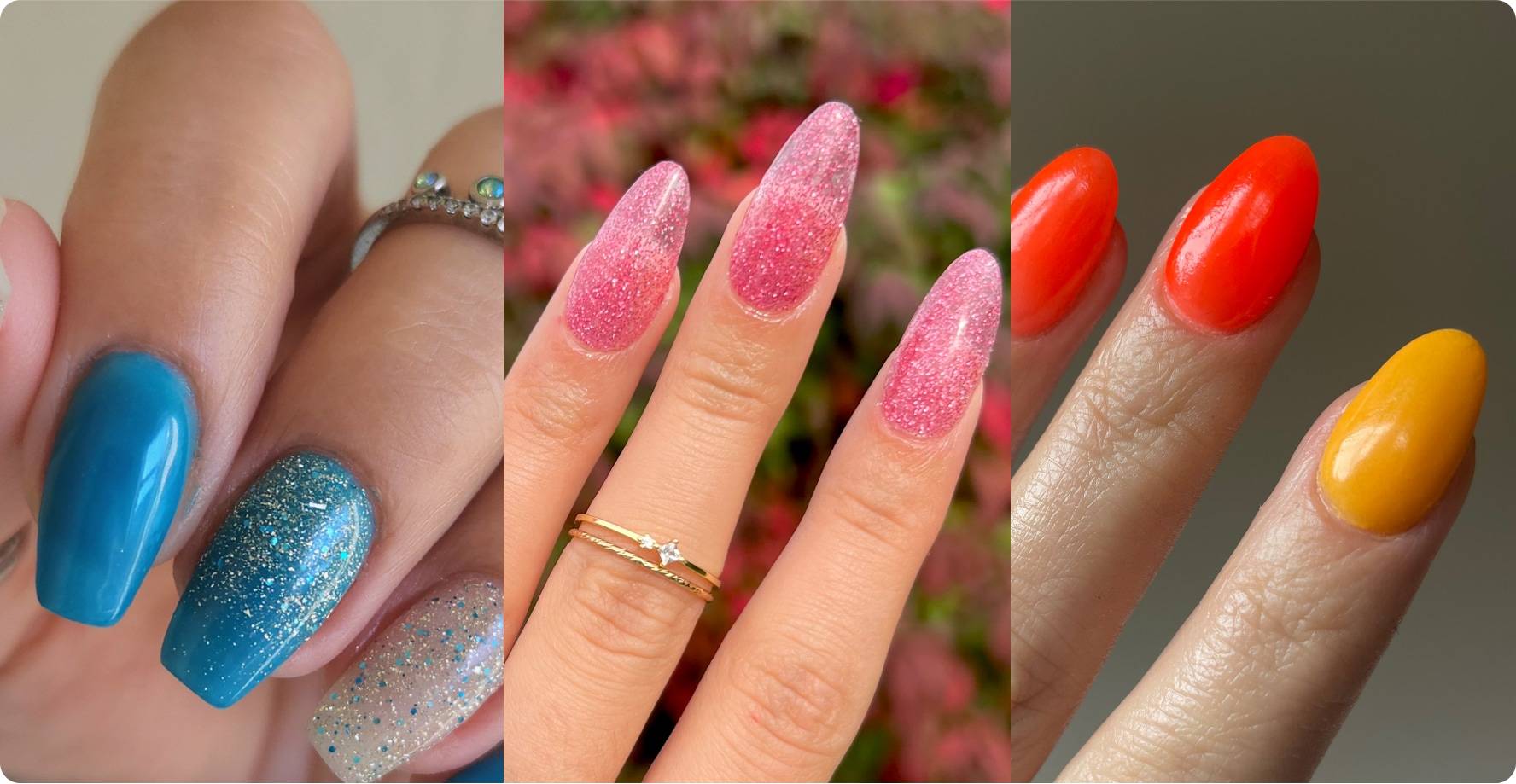 I've been using Nailboo for a few months now and I'm in love with the results. My nails are looking better than ever before, and they feel stronger too. Plus, I've saved a ton of money since I haven't had to go to a nail salon! No more overpriced and underwhelming treatments for me.

I just use Nailboo at home, and in 15 minutes, I'm ready to show off my gorgeous nails!

I don't know what I'd do without it.

If you or a friend still spend a fortune at a nail salon, I cannot recommend Nailboo Dip Powder Kit enough!

I recommend the Pro kit size - you can choose 6 colors, receive $48 in Bonus Items (hand masks, feet masks & cuticle serum) AND get free shipping!

If you're done wasting your money and time in nail salons, you just have to try Nailboo – it could change your life for the better!